Team owner, Race Car Driver, Crew Chief and Engineer, Harold Martin, continues to turn his dreams to reality both on and off the race track.  Harold has built a legacy by combining his creative mind, aptitude and commitment to advancing engineering entertainment through his passion in Motorsports.
In an era where hired drivers and purchased race cars and engines are the norm, Harold is a second generation motorsports team owner/driver, automotive engineer and Chief Executive Officer of a growing corporation. Although these combined responsibilities would be daunting to some, it is a challenge that Harold has enthusiastically embraced on all levels with tremendous success.  
He led several development programs during his OEM engineering career and been awarded 15 world patents. Most of the innovations are in production vehicles globally and have driven new competency levels throughout industries.  
Driven by his entrepreneur spirit and desire to both brand his creativity and broaden his technology application, Harold left his OEM career to launch Martin Motorsports which later expanded to MARTIN TECHNOLOGIES. This career change allowed him to focus on racing technology development not only in the lab but also on the track.   "Being a competitive person, I also wanted to make a significant contribution – not just be a face in the crowd, but make an impact, so I never miss an opportunity to learn and contribute."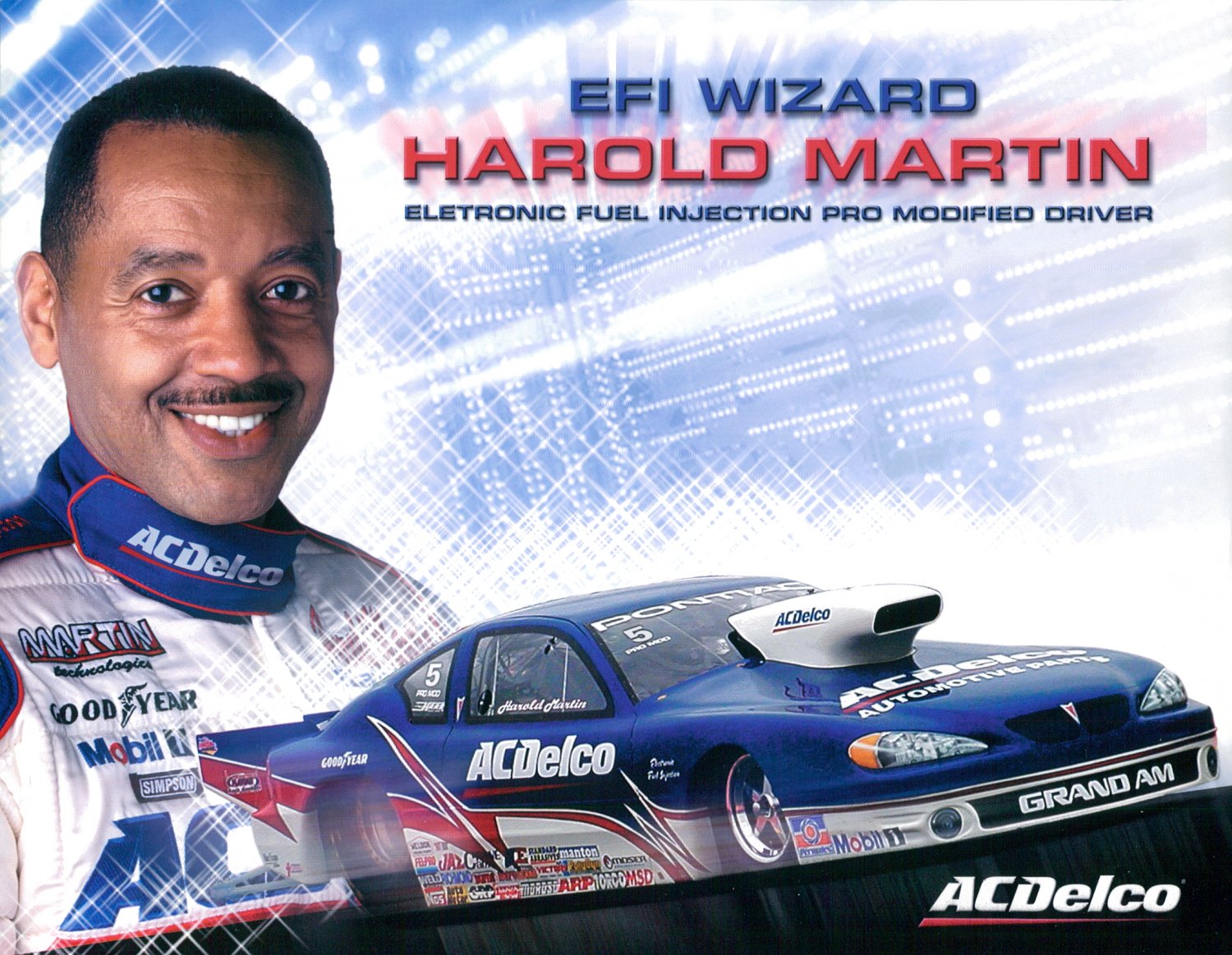 Car Statistics
Team: Harold Martin Racing, New Hudson, Michigan
Driver: Harold Martin
Car: 2019 Corvette
Class: Pro Modified
Engine: 906CID Martin V-8 with Martin electronic fuel injection
Horsepower: 2900
Making History
ACDelco / General Motors sponsored Harold for over 14 years.  During that time Harold made many technology advancements including design and implementation of the first EFI (Electronic Fuel Injection) engine in a Pro Modified car.  This innovation produced one of the quickest race cars in the world. Harold was the first to win a professional national event with EFI.  Today consistent with many of Harold's innovations, this technology has also become the new standard.   Additionally Harold invented, design and built his own racecar body called the M4 and with similar outcome this design attribute is reflected in production vehicles.
It is Harold's innovation that continues to elevate his development of new technologies for all both motorsports and transportation applications.  Harold's design and development in powertrain, drivetrain, chassis, aerodynamics, and integration technologies have won championships across all racing platforms and around the world.
"Clearly I'm proud of our accomplishments in both the technological and business worlds, but more importantly I'm also driven to give something back and be a mentor for our successors.  I enjoy sharing my experiences with people from all walks of life, and providing them with the assurance that hard work and sacrifice can also be their keys to success."
The Harold Martin race team is the home of the "EFI Wizard" based in Novi, Michigan.
The racecar competes in the professional drag race series in the exciting class of NHRA Pro Modified.
The racecar can be seen racing at NHRA events throughout United States and Canada.
The racecar is a 2019 Corvette (Pro Modified), which prominently displays the red and white colors
The Martin team designs and builds all its engines in-house including its own unique electronic fuel injection (EFI) system.
The Martin race engines produce approximately 2,900 horsepower.
With a successful combination of experience, technology, and innovation, it's no surprise that the Martin Race Team continues to be found in the winner's circle.
HAROLD MARTIN'S

Career Highlights:
Former General Motors engineer
Awarded 15 world patents
Team owner, driver, crew chief and engineer of Harold Martin Racing
President / CEO of Martin Technologies – Providing Tier One Engineering Services to the transportation industry
Designed and implemented the first EFI Engine in Pro Modified
First EFI car to win a national professional event
Winner of IHRA Rocky Mountain Nationals in Edmonton, Alberta
#1 Qualifier at the prestigious 50th US National in Indy
Finish in the top ten 5 times in the World Points Series
Holds numerous track records including Indianapolis
Invented and designed his own race car body called the M4
14 year sponsorship relationship with ACDelco / General Motors
Sponsorship with the National Guard
Profiled by CNN, ESPN, Speedvision, Fox Sports, Ebony, On Wheels Magazine, GM News, USA Today, Super Chevy, Speed Style and Sound, and others
Speaker for over 75 Corporations, over 450 schools (190,000 plus students)
Winner of Editor's Choice Award
Inducted as an African American Auto Industry Leader by DRIVEN
Best engineered vehicle award: NHRA, IHRA and ADRL
Racer of the year award: NHRA and IHRA
Tier One Supplier to automotive, marine, defense and aerospace industry
Supplier to Motorsport industry
Featured, with other significant renown leaders, in bestselling book "I Am A Father" and mentor
Winner of Trailblazer award: AFMIM
Acting roll in move "Home Run Derby Showdown"
HAROLD MARTIN

 Community:

Memberships and Associations
Board Member to Automotive Industry
Specialty Equipment Market Association (SEMA)
National Minority Supplier Development Council (NMSDC)
National Hot Rod Association (NHRA)
Community Services
Keynote speaker at approximately 250 institutions
Speaker at church groups
Martin Scholarship award
Tours at Martin facilities
Provides Internships