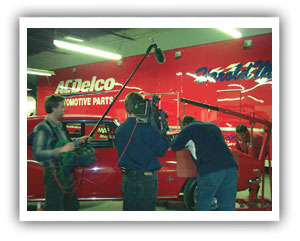 Electronic Fuel Injection (EFI) Wizard Harold Martin's personal commitment to education and the leaders of tomorrow has earned the attention of CNN.The Detroit based business leader was featured in a segment airing in February.
CNN Newsroom is a 30-minute, commercial-free broadcast. The show airs Monday through Friday internationally on CNN. Additionally, it airs in more than 36,000 schools in the United States. The show gives viewers an in-depth look at the day's news events as well as incorporating specially produced segments.
Over the course of the year, Harold reaches out to students at career fairs, student seminars and other promotional events across the country." It is exciting to have the opportunity to reach out to students on a national level and share with them the importance of a formal education in achieving successes in life."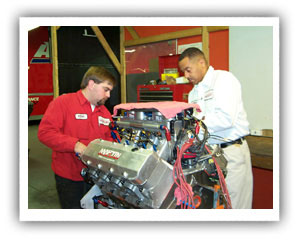 Harold will also announce a scholarship opportunity for high school students interested in a career in the automotive industry. Martin's ongoing innovations in EFI have been the basis for his personal challenge to achieve higher levels with his progressive ideas. His 2,000 horsepower ACDelco Pontiac Grand Am employs an electronic fuel injection engine, specially designed by Martin. Building on the combination of Harold's expertise and enthusiasm, the 2001 race season is expected to be both exciting and record breaking for Harold's race team. The innovative style of the Martin Motorsports Team will set the stage this season for their future growth and expansion.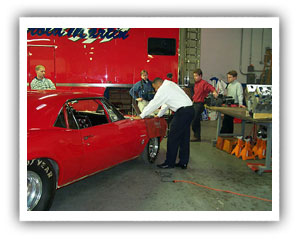 Martin's company, while specializing in Electronic Fuel Injection, has expanded to include engineering and development of engine programs for Original Equipment Manufacturer (OEM) companies to professional race teams. GM Performance Parts recently released a new high technology EFI 502 cubic inch engine package which was designed and developed in conjunction with Martin Motorsports. Additionally, the company has been assigned complete Powertrain responsibility for the newest Carroll Shelby sports car, the Shelby Series One.
With a combination of experience, education, innovation and enthusiasm, it's no surprise that CNN has chosen to profile such a dynamic individual.
HAYNES: Every once in a while, you meet someone who breathes inspiration, someone you admire not only for his accomplishments in life. but how that person lives life. Recently, I ran across such an individual: a drag racer-turned-entrepreneur who's living a life-long dream.
(BEGIN VIDEOTAPE) (voice-over): The thrill of drag racing: speeding down a quarter-mile track at more than two hundred miles an hour. It's a risk-taker's sport. Harold Martin is the embodiment of a drag racer. He's not afraid of risks. He thrives on competition and fear of the unknown.
HAROLD MARTIN, DRAG RACER: But what about the distributor? Has it been phased in?
HAYNES: Harold puts his hands on everything that passes through here. For him, turning wrenches comes naturally.
MARTIN: Since a kid, I basically have been fascinated by engines and the possibilities and the what-ifs?
HAYNES: Martin's fascination with motor sports was inspired by his father, a Detroit autoworker who liked to drag race on the side.
HUSTON MARTIN, HAROLD'S FATHER: Every Saturday night, he would be there, involved in whatever we was doing. So I knew then. I said: Boy, this guy, he's going to be a drag racer.
HAROLD MARTIN: My dad was very good in opening that door and giving me opportunities to learn about it and to be on his race team and those kind of things.
HAYNES: Martin wanted his drag engine to be the best, which meant developing expertise he didn't have. So he took a part-time job at General Motors to pay for a degree in automotive engineering. At GM, Martin was an innovator. He's credited with developing the first electronic fuel injection system and Cadillac's Northstar engine. At the peak of his career, Martin left GM to start his own automotive engineering company.
HAROLD MARTIN: I felt like it was time to take that risk and pursue a dream. I felt like, you know, I didn't want to look back on life and say: I wish I would of, could of, should of.
HAYNES (on camera): Was it a little scary to start your own business?
HAROLD MARTIN: Yes. Starting your own business is always a very, very difficult thing and concerning thing. You have the risk of: You've lost the security of the job that you had. You have the risk of: Well, will people really think highly enough of you to give you business, as well as will they come back to you after the first episode of that business?
HAYNES (voice-over): The risk paid off. Harold Martin built himself a multi-million dollar enterprise, attracting race enthusiasts who want to soup up their engines and major auto companies like General Motors.
SCOTT MACKIE, GENERAL MANAGER, ACDELCO: We certainly appreciate the association with Harold. Racing is a very difficult sport. And staying on the cutting edge of technology is an extremely difficult thing to do.
HAYNES: Besides his father's influence, Martin credits much of his success on his upbringing as a child in inner city Detroit.
HAROLD MARTIN: It takes a surrounding staff and a surrounding community to make you ultimately the person that you are. And that's why I find it so special to have the opportunity to come back into the city of Detroit and do things within the public school systems and do things within communities at large. It's each and every one of you that has the ability to take your own prospective careers to whatever level that you choose to. Nothing can stop you other than you.
HAYNES: Martin goes out of his way to share his philosophy of hard work and determination with young people.
HAROLD MARTIN: I want them to make a serious commitment to the career. I want them to make a serious commitment to education. And I want them to realize that it's them that makes that difference.
HAYNES (on camera): Does a young Harold Martin growing up in this neighborhood today have as much opportunity to succeed as you did?
HAROLD MARTIN: A young Harold Martin today has even greater opportunity than I have today to succeed. This is really good, Mike.
HAYNES (voice-over): Martin makes no secret about the value he places on family and spends as much time and energy on being a husband and father as he does climbing the entrepreneurial ladder. (on camera): How much do you try and involve your son in what you do as a professional?
HAROLD MARTIN: I want him to be a very successful person. I want him to know the benefits of working hard and what the rewards are of having a good education and having good, hard work ethics and those kinds of things.
HAYNES (voice-over): Harold Martin is living a dream: a dream he made come true by his own hard work and determination. But just because he's accomplished so much doesn't mean he's ready to put his life on cruise control.
HAROLD MARTIN: God didn't put you on this Earth to go out there and coexist. He put you on this Earth to go out there and make a difference. Each and every day, I make a major stride toward making sure that our efforts at the end of the day are going to make a difference in the programs that we are involved with. (END VIDEOTAPE)
HAYNES: That's NEWSROOM for Thursday. We'll see you back here tomorrow. Take care. TO ORDER A VIDEO OF THIS TRANSCRIPT, PLEASE CALL 800-CNN-NEWS OR USE OUR SECURE ONLINE ORDER FORM LOCATED AT www.fdch.com