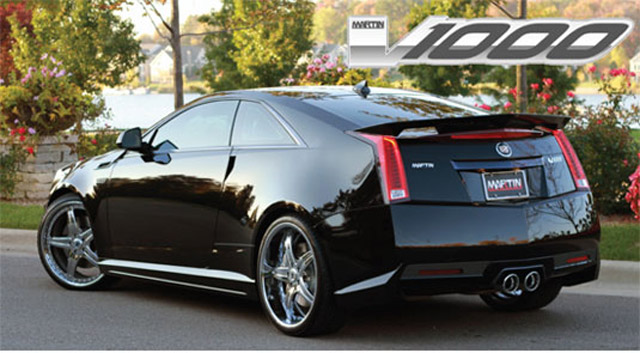 Birmingham, Mich. – The Martin team has again expanded its line of elegant performance vehicles in the unveiling of its latest creative offering, the exciting Martin V1000. This high performance specialty vehicle is based on the stylish Cadillac CTS-V Coupe and features over 1000 hp along with many dynamic vehicle attributes. It will join the existing stable of unique Martin "Extreme Elegance" vehicles, complimented by the 2011 and 2012 "King of the Street" Camaro's, in both hardtop and convertible versions – featuring the refined but awesome 875-horsepower supercharged Martin SS 427 – The uniqueness of all of the Martin branded vehicles is the complete totally integrated package including engine and drivetrain, and transcends throughout suspension, interior and exterior enhancements to achieve the ultimate automotive experience. Don't miss the opportunity to see these vehicles as they participate in the prestigious 2011 Woodward Dream Cruise.
The Martin V1000 is capable of 0-60 mph times of 3.5 seconds and quarter-mile ETs of 11.2 seconds at 127 mph. Enthusiastic customers across the country describe the understated and elegantly appointed cars as "ultimate sleepers, with explosive performance contained in a tasteful, tailored package."
"With the expansion of our Martin Specialty vehicle line, we continue to raise the standards of high performance coast to coast – as well as globally," said Harold Martin, president of Martin Technologies. "We strive to continuously enhance a very refined high performance vehicle."
"We are excited to return to Woodward this year and participate in many of the event activities," said Martin. "We invite all enthusiasts to visit our displays, check out our cars and talk with our specialists to allow us to help turn their dreams into reality."
In addition to the Martin specialty vehicle line up, Martin Technologies provides Engineering Services, Testing and Manufacturing along with Professional Drag Racing and Custom Motor Sport products and services for Global customers.