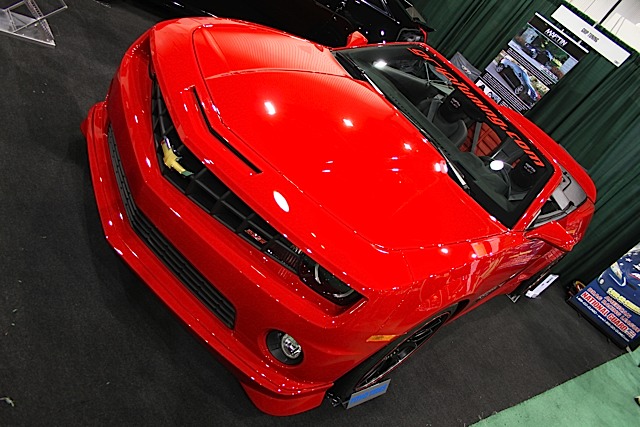 You may remember that a few weeks back, we posted up a little sneak peek at the Martin Z875 Camaro. Today, we got to see that car "in the flesh," as well as check out its Martin Technologies stablemate, the V1000 Cadillac CTS-V. Both are good examples of what dedicated people with a strong engineering background can do with modern GM vehicles, and of the very literal way engineers name things.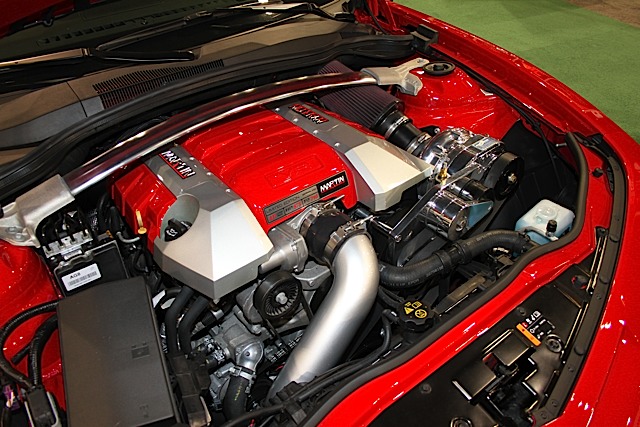 You see, the Z875 utilizes a Procharger D-1SC-blown 427 cubic inch LS built in-house by Martin Technologies to deliver (you guessed it!) 875 crank horsepower. No prize will be awarded for correctly guessing what the horsepower rating for the V1000 is… The 7.0 liter powerplant under the hood of the Cadillac is boosted via an Eaton-style positive displacement supercharger, rather than the centrifugal setup on the Camaro, and Martin claims four-digit horsepower at 7,100 RPM with 900 pound-feet of torque at 5,500.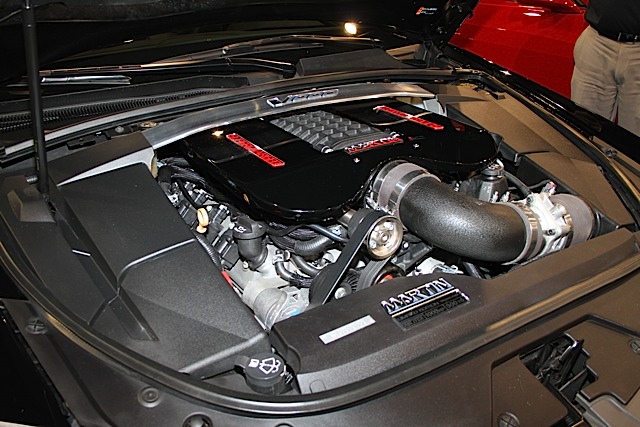 This isn't an obnoxious car…
"This isn't an obnoxious car," says Martin vice president Brian Jones, describing the V1000 Cadillac. "You can cruise through a nice neighborhood and enjoy the rumble of the exhaust without attracting too much attention, and you can take the family out to dinner in this car." For those looking for the ultimate grocery getter and soccer team taxi, Martin also offers the same package on the 4-door CTS-V sedan or the station wagon.
Of course, in an age where conspicuous displays of wealth might get you a bunch of campers on your front lawn, one might scale back one's ambitions a bit and settle for a lesser Martin "V" package, like the 650 or 800 – Once again, no prize for figuring out where those fall on the horsepower scale.
Regardless of what's under the hood, the good folks at Grip Tuning lend their expertise to the exterior, with the Martin V1000 sporting their six-piece body kit that includes a front chin spoiler, side skirts, rear quarter extensions, and a rear decklid spoiler. As you can imagine, a car with this much power needs as much tire under it as you can get, and the V1000 rides on 22-inch three-piece wheels wrapped in Continental DWS rubber. Jones tells us, "there isn't a lot of room within the wheel arch envelope on the CTS, and you have to get the offset right to clear everything properly."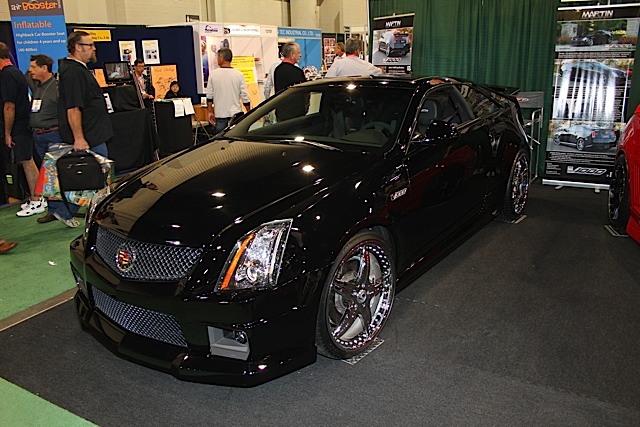 If the V1000 is all about insane power wrapped in subtle styling, then the Z875 is the polar opposite. Grip Tuning has taken their body kit for the 5th Gen Camaro and applied to it the Martin hardware for a look that is about as extreme as anything we've seen that retains practicality. Most will agree that the styling is successful for the first 9/10ths of the car, but we will be honest and say that opinions vary on the rear spoiler. Fortunately for those who prefer something different, Grip offers the pieces a la carte as well.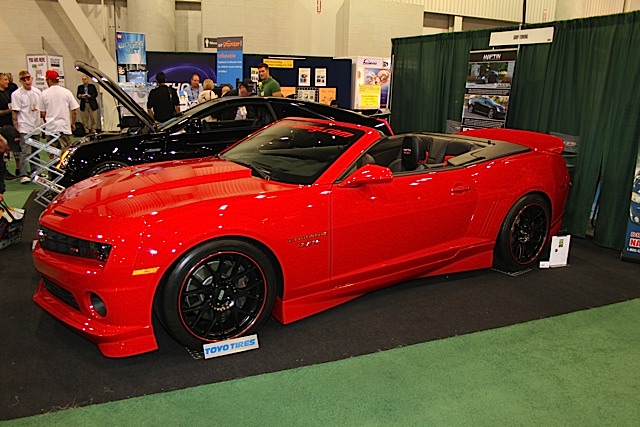 The interior is also given a custom treatment, with seat reskins as flamboyant as the ones in the Cadillac are subtle. Once again, it's a matter of taste, and cars of this strata are never a shelf-stock proposition anyway, so customers will most likely be able to choose styling that fits their taste. One thing that isn't up for debate is that with nearly 2,000 horsepower sitting on a 20 by 20 foot piece of convention center carpet, Martin Technologies and Grip Tuning have plenty to be proud of.